– Keoride On Demand transport has been operating since November 2017
– According to recent customer research, 42% of customers would ditch their individual car to use Keoride
– During the 3 years Keoride has completed over 460,000 passenger trips
Keolis Downer, in partnership with Transport for NSW, started operating Keoride On Demand transport in November 2017, as part of the NSW Government On Demand pilot program.
Since the launch of this service, the community has embraced Keoride, praising the flexibility, reliability and high service quality delivered.
Keoride is an app-based service, which offers a unique service design that allows customers to order a vehicle when they want to travel, to go to key hubs in the Northern beaches and/or connect to the B-Line.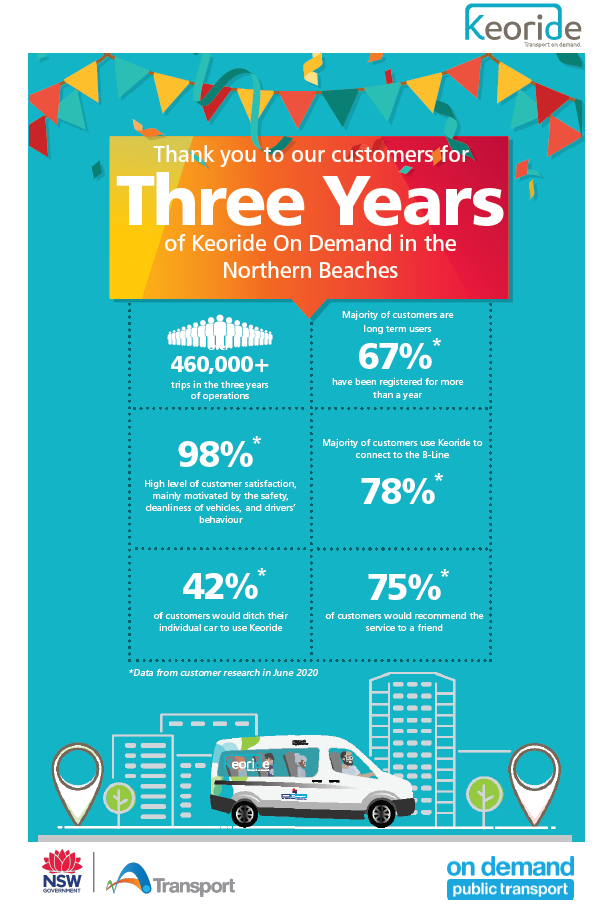 A high level of customer satisfaction from day 1
A majority of Keoriders are long term users, 67% have been registered for more than a year, and 75% would recommend the service to a friend.
Customer satisfaction reaches 98%, mainly motivated by the safety, cleanliness of vehicles, and driver's behaviour.
"The Keolis Downer customer culture Think Like a Passenger, is a major part of the success of this service," comments David Franks, Keolis Downer CEO. "Our drivers are part of the community, and go through an extensive training to enable them to deliver an optimal passenger experience. They are committed, and go above and beyond to keep our customers happy".
Usual passenger numbers are around 20,000 a month. Through the COVID-19 crisis, Keoride has adapted the service to enable the more fragile part of the community and essential workers to use the service more efficiently. These changes were welcome by customers who rely on Keoride to go shopping, to work and stay connected the community.
On Demand transport takes individual cars off the roads
According to research conducted in June 2020, a majority of customers use Keoride to connect to the B-Line (78%), and 57% would have used their car if Keoride wasn't available.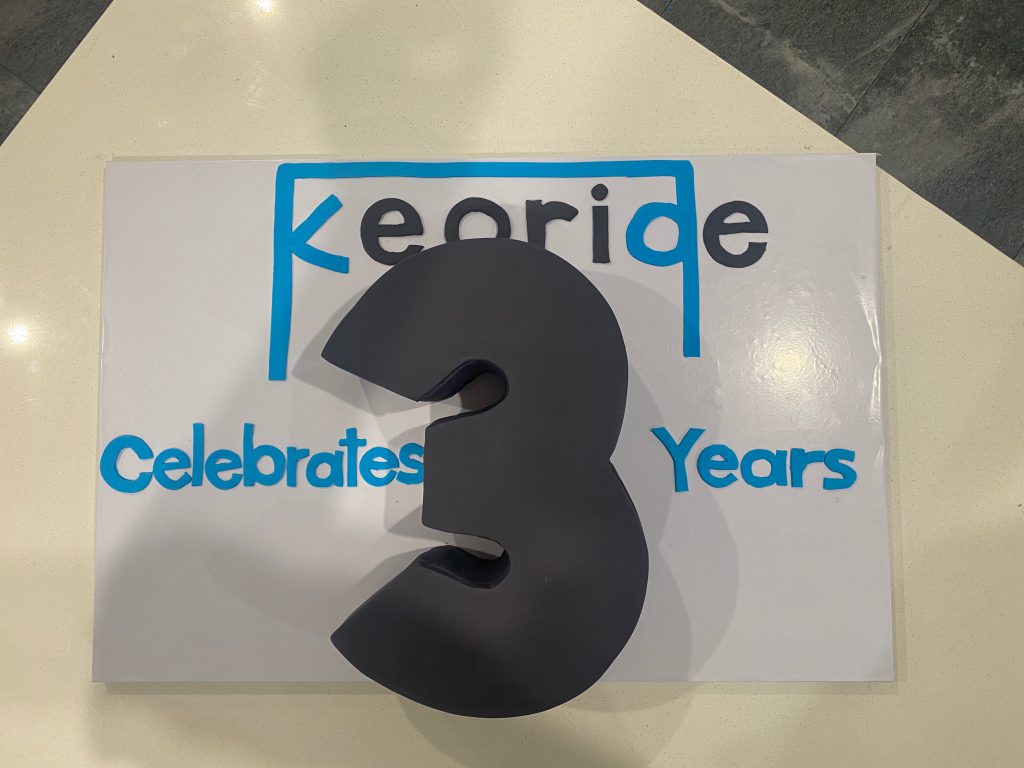 42% of customers have also stated they could replace one of their household vehicles by using On Demand transport.
"We are excited about these results and look forward to continuing to partner with TfNSW to continuously improve the service", says David Franks.
About Keolis Downer
Keolis Downer is a leading operator and integrator of public transport in Australia. With more than 4,000 employees and a presence in five states, Keolis Downer enables 250 million passenger journeys per year. We operate and maintain the largest tram network in the world in Melbourne (Yarra Trams), the light rail network on the Gold Coast (G:link), and more than 1,200 buses in NSW, Western Australia, South Australia and Queensland.
Established in 2009, Keolis Downer is a joint venture between Keolis, a leading public transport operator established in 16 countries, and Downer, the leading provider of integrated services in Australia and New Zealand.
ALL MEDIA ENQUIRIES: Segolene Deeley – Director Corporate Affairs +61 421 929 334 / segolene.deeley@keolisdowner.com.au