18 November 2022
LEADERSHIP CHANGES AT KEOLIS DOWNER
After five years leading Keolis Downer, David Franks has decided to move back to the UK. As a result, David will be stepping down as CEO of Keolis Downer in early January 2023. 
During his time at Keolis Downer, David has led the growth of the business, adding new operations into the Keolis Downer portfolio, with bus operations in Sydney and rail operations Adelaide. He has also developed an ambitious strategy to be Australia's leading provider of zero-emissions transport and has built a strong team to ensure the ongoing success of the company.
David will still be leading the negotiations with the South Australian Government over the future of the Metropolitan Rail Contract as well as working with Keolis Group pursuing development opportunities in Stockholm and Dublin.
Julien Dehornoy has been appointed CEO of Keolis Downer and will take over from Monday 9 January 2023.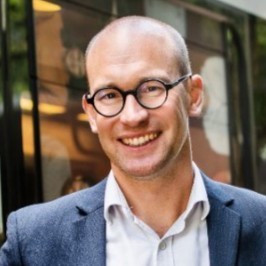 After joining Keolis Downer Yarra Trams in 2019, Julien was appointed Yarra Trams CEO in 2020 and led the team operating the world's largest tram network during the challenging COVID-19 pandemic. With a strong focus on customer experience, supporting the local economy and sustainability, Julien's priority will be to grow Keolis Downer's footprint while bringing innovative service to passengers and supporting the energy transition throughout Australia.
In addition to his extensive operational experience in Australia, Julien brings 20 years' experience working in rail and the public transport industry across three continents and the private and public sectors. In the past decade, he has worked as CEO of SNCF America and Chief of Staff to both the Chairman of SNCF and the French Minister for Transport Elisabeth Borne, who is today France's Prime Minister.
Carla Purcell, Yarra Trams' current Chief Operating Officer, has been appointed Yarra Trams CEO and will commence in the role in early 2023 after returning from parental leave. Carla is an impressive leader with an exceptional track record for delivering innovation and improvement to the Yarra Tram network, whilst ensuring that passenger needs remain at the heart of her work. Adele McCarthy, Chief Development Officer at Yarra Trams, will be Acting as Yarra Trams CEO until Carla's return in early 2023.
Keolis Group Chairwoman and CEO Marie-Ange Debon said, "I would like to thank David Franks for his leadership over the eventful past five years. Despite challenges like the health pandemic and the energy crisis, our Australian activities have flourished with the addition of emblematic networks including Adelaide's commuter rail and a 400-strong bus network in Sydney, many of which will be converted to e-buses."
"Julien Dehornoy is the ideal profile to build on Keolis Downer's momentum by bringing his operational experience at Melbourne's iconic Yarra Trams network as well as his in-depth knowledge of the Australian mobility market. I have no doubt that Julien's track record in mass transit in the public and private sectors in Australia, France and the United States will also prove invaluable in enhancing the passenger experience and accelerating the energy transition down under." 
About Keolis Downer
Keolis Downer is a leading operator and integrator of public transport in Australia. With over 5,300+ employees and a presence in five states, Keolis Downer enables 350 million passenger journeys per year. We operate and maintain the largest tram network in the world in Melbourne (Yarra Trams), the light rail network on the Gold Coast (G:link), Adelaide Metro train services and more than 1,300+ buses in New South Wales, Western Australia, South Australia and Queensland. In Newcastle we also operate an integrated transport network, connecting the Newcastle and Lake Macquarie communities with frequent light rail, bus, ferry and On Demand services.
Established in 2009, Keolis Downer is a joint venture between Keolis, a leading public transport operator established in 14 countries, and Downer, the leading provider of integrated services in Australia and New Zealand.
ALL MEDIA ENQUIRIES:
Segolene Deeley – Director, Future Mobility and Corporate Affairs – 0421 929 334