2 December 2022
Keolis Downer Northern Beaches is the first bus service operator for New South Wales to launch Hidden Disabilities
Not all disabilities are visible, such as autism, chronic pain, dementia, anxiety, visual or hearing impairment. Living with a hidden disability, can make daily life more demanding for many people, but it can also be difficult for others to identify.
As the bus operator for Northern Beaches and Lower North Shore communities, our aim is to ensure everyone travelling on our network feels safe and supported, can travel with confidence, and has a positive journey experience.
We are proud to announce that we have become supporters of the Hidden Disabilities Sunflower Lanyard initiative in ANZ – Making the Invisible Visible!
From Saturday 2nd of December 2022 Keolis Downer Northern Beaches will be the first bus service operator to roll out the initiative in NSW, closely following Sydney, Brisbane, Melbourne and Adelaide airports; with the aim to build awareness of the Sunflower symbol across multiple industries so that those wearing the lanyard can be supported at all times.
The initiative was first launched in the UK in 2016 at Gatwick Airport by their accessibility team to enhance the customer experience and is now present in 8 countries and expanding rapidly across the globe.
We have timed this program to align with the International Day of Persons with Disabilities (IDPD) which will be acknowledged on Sunday 3rd December and aims to promote an understanding of disability issues.
Making the invisible visible
Mark Dunlop, Managing Director of KDNB says, "this scheme supports our customers with hidden disabilities, a passenger who wears the Sunflower lanyard whilst waiting at a bus stop or travelling onboard one of our buses, will discreetly inform the bus driver that they may need more time or support during their journey."
"Public transport is for everyone. We want all our passengers to travel on our bus network with confidence and we look forward to seeing this initiative expand across Keolis Downer operations in Australia for all modes."
Sunflower lanyards will now be available for customers who would like to wear one to collect for free from the lost property desk at either one of our depots at Mona Vale, Brookvale and North Sydney. To find out where we are located, please visit the website at kdnorthernbeaches.com.au/hiddendisabilities.
A little bit about the Sunflower Lanyard scheme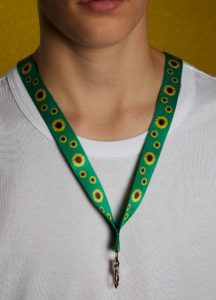 The Hidden Disabilities Sunflower is a globally recognized symbol for non-visible disabilities.
Although not all people with hidden disabilities need assistance, the lanyard can be worn by those who want to discreetly indicate to staff that they may need additional help while travelling.
In September this year Keolis Downer Northern Beaches collaborated with Bayley House (a not-for-profit supporting adults with intellectual disabilities and the official partner and distributor of Sunflower products for ANZ) to provide hidden disabilities training to all our Bus Drivers, raising awareness of the wide range of non-visible disabilities and create an understanding around the challenges faced by many.
For more information, please contact Jennifer Mullarkey in our Customer Experience team at Jennifer.mullarkey@keolisdowner.com.au or visit the Hidden Disabilities ANZ website  www.hiddendisabilitiesshop.com.au.